Kitchari is a staple in Ayurvedic cooking. Made up of basmati rice and split mung beans it is light and easy to digest. Quick and easy to prepare, kitchari and is a balanced combination of protein and carbohydrates and is good for all three doshas.
Kitchari is often used in India when convalescing and recovering from illness, it is commonly used in traditional Pancha Karma cleanses. It nourishes all of the bodily tissues while aiding detoxification.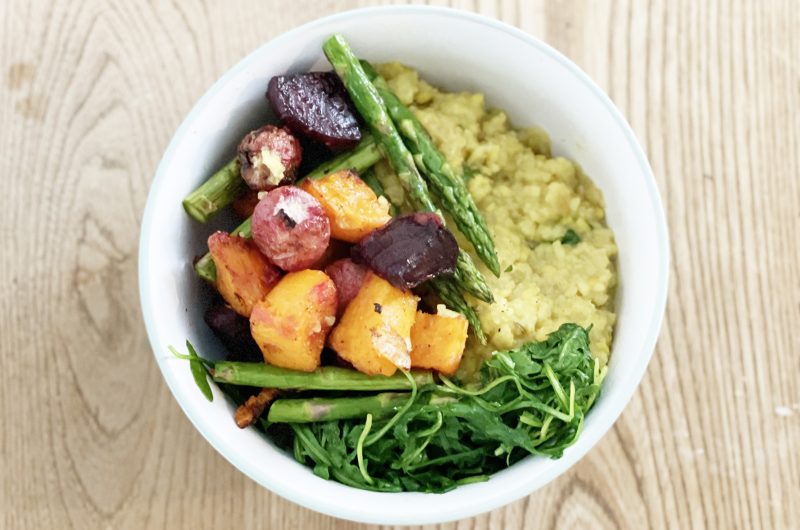 Favourite Kitchari Recipe
Course: Main
Cuisine: Indian
Difficulty: Easy
Ingredients
1/2 cup split mung dal

1/2 Cup white basmati rice

Small pinch of Hing

1 stick of Kombu seaweed

1 small onion or leek

1 -2 TBS ghee

1/2 TSP mustard seeds

1/2 TSP Fennel seeds


1/2 TSP Cumin seeds

1/2 TSP Corriander seeds

1 TSP Turmeric

1 TBS ground coriander powder

1 TSP fresh chopped ginger

1-2 TSP lime juice

1/2 – 1 TSP mineral salt

A handful of fresh chopped coriander

Seasonal veggies of your choice, sauteed, steamed or roasted in ghee.
Sweet potatoes, squash,  Brussels sprouts, cauliflower, carrots are all good choices.
Directions
  Soak split mung dhal for an hour or overnight. Rinse thoroughly after soaking.
Rinse rice separately and add rice and mung beans to a saucepan with 4 cups of water and I stick of Kombu seaweed and a pinch of Hing.
Bring to a boil and simmer until soft. Skim off any foam that forms while cooking. – you may need to add more water – keep an eye on it.
While beans and rice is cooking, Chop the onion or leek and heat 1 -2 Tsp ghee (less for kapha) in a small frying pan add mustard seeds and heat until they pop.
Turn heat to medium-low, Add the onion to the mustard seeds once they have popped and saute until translucent.
Put veggies on a baking tray and coat lightly in ghee. Bake on 200 for about 20  – 30 minutes.
Add fresh ginger, cumin seeds and fennel seeds to the onion until they brown.
When the rice and mung beans are cooked you should be able to squash them between your thumb and index finger. The water should be absorbed. The consistency can be to your taste, if you like a more soupier kitchari you can add a little water to make it more like dal.
Add turmeric and coriander to the onion add more ghee if needed to coat all of the powdered herbs cook for another minute and take the mixture off of the heat.
Add the onion mix to the kitchari and mix together.
Add lime juice and salt ( omit for kapha).
  Serve with roasted veggies and freshly chopped coriander.