"Venus is joyful in spirit, possesses a beautiful body, is splendorous and has lovely eyes; She is the inspirer of poets, is watery and airy in constitution, and has curly hair."
~ parashara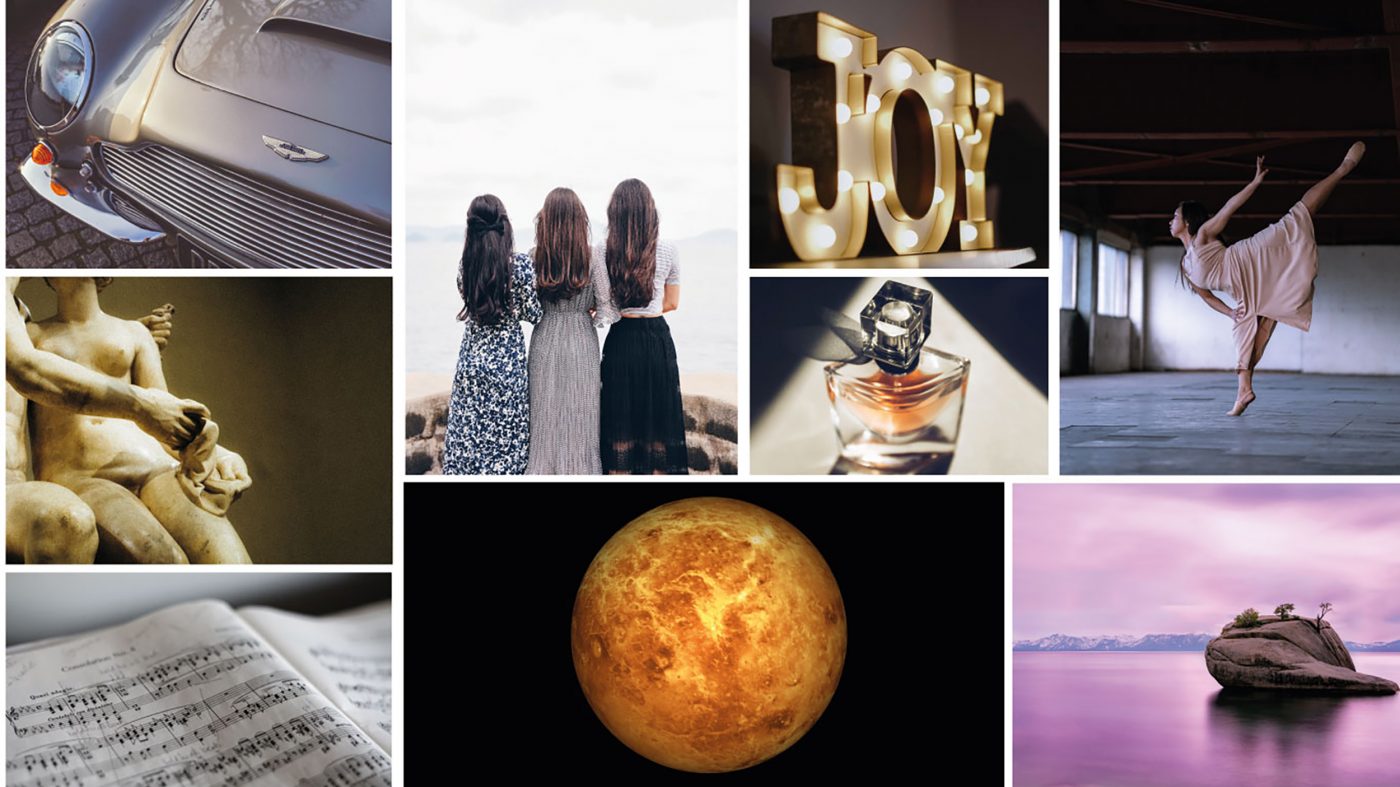 In Sanskrit, Venus is "Shukra" meaning brilliant light. In Ayurveda, Shukra is the 7th and last of the bodily tissues, the reproductive tissues whose function, apart from reproduction, is producing Ojas, our supreme immunity and zest for life. Therefore, a well-placed Venus indicates good Ojas (immunity), and the ability to recuperate and absorb nutrients effectively. Venus represents the air and water elements and vata and a kapha, respectively.
As the planet of joy, Venus provides our enjoyment and enables us to gain pleasure through our senses. Refinery, appreciation of the arts and beauty all fall under Venus. She bestows beauty, a well-proportioned body, big eyes and fertility.
Venus is a feminine planet and represents women, a wife and daughters, with romance featuring strongly in her repertoire. In fact, one of the central representations of Venus is sexuality and romance, how we experience and express ourselves in these areas and the full energetics of relationship as a whole, including friendships, colleagues and peers as well as lovers.
Diplomacy and tact are strong traits of those with a well-placed Venus along with charm, grace and laughter. Venusians are social and joyful creatures with an innate understanding of how to give and receive love.
Venus gives a person refined taste with an appreciation for luxury and the arts, dance, and music. Venus gives us the ability to compose an emotional impact through music and art. Where Mercury gives us skill in these arenas, Venus gives us refined appreciation and the ability to beautify things. Vesuvians make great designers both in fashion and jewellery, emotive poets, dancers, art dealers or curators as well as counsellors and therapists.
On the flip side, an afflicted Venus can make a person self-indulgent, too romantic, too dependent on people, they can be driven by sensory pleasure and be persuaded by appearances alone.
Perfumes and fragrant flowers are also represented by Venus. The white lotus is the most robust floral representation, but by placing fragrant blossoms, and garden flowers in the SE part of your house or room, you can subtly evoke the qualities of Venus.
Venus also rules places of pleasure and amusement, pools of water, vehicles and fragrances, jewellery and fashion, and always with the best possible taste!
So on a Thursday, dance, make music, go for a swim, put on your most glamourous outfit and make sure that whatever you do, it is Fun!
Venus gives vitality, the energy of delight. She is our portion of the Ananda, the divine bliss in creation.

~ David Frawley - Astrology of the Seers.